Search by product category
LTD620D Dual color undercover LED visor bar
Type:LTD620D Dual color undercover LED visor bar
Color:
Other color:
Material:AL Housing
Power:3W/LED
Weight:3.2kg
Quantity:
LED High power under cover visor interior light bars Key Specifications/Special Features:
Description:The Gen4 low profile LED light bar designed with an outstanding the latest up to date microprocessor circuitthat enables low power consumption. Using the newest Gen 4 LED technology it illuminates an intense rayof light, which can be seen in any direction even in clear daylight. The super bright interior visor lightbargives you the ability to choose over 18 selectable warning light patterns. The structure includes 6/8 LEDmodules, 6/4 LEDs per section, We provide mounting brackets. Flash patterns are able to bechanged via a push button located on the cigar plug, or the bar can be hardwired. The lightbar can bemounted using your visor in only a matter of minutes.
Voltage: 12VDC, Generation 6 LIIN 3WATT LED technology Sleek design with clear lens for stealth look Includes wire harness for easy installationBrackets included. Internal Use Only.
Feature:
DIMENSIONS (PER SIDE) 490mm L×230mm W×40mm H
FEATURES
• Powered by 12V
• 36 Generation IV 3-watt LEDs
• Eclipse Linear optics
• 18 available flash patterns
• Optional Grand Control Box
• Aluminum Housing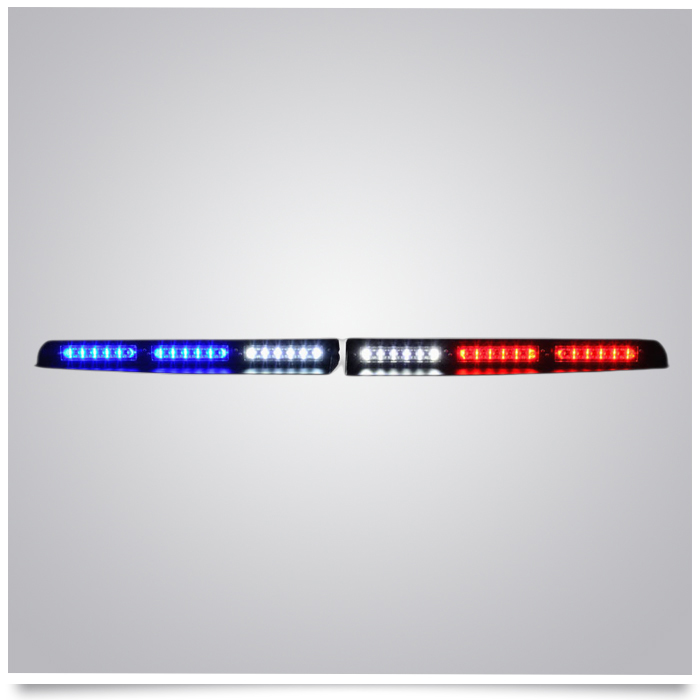 LED light Recommend products
In addition to LED Dual Tri Color lights Customers Also Bought